Julianne Hough Boyfriend, Dating and Short Hair
Date: 07 Nov, 2014 Report This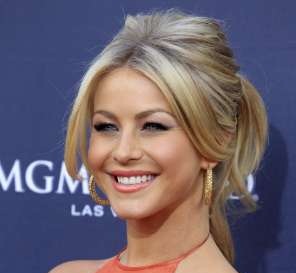 "I think every girl needs to love herself, regardless of anything. Like if you're having a bad day, if you don't like your hair, if you don't have the best family situation, whatever, you have to love yourself, and you can't do anything until you love yourself first." – Julianne Hough
Julianne Hough was born on 20th of July, 1988 in Orem, Utah. She is an American actress, a dancer as well as singer and songwriter. She became popular after she won the championship of "Dancing with the Stars". She has won this championship two times.
From her early age, she loves to dance. Because of this reason, she started to take lessons of dancing from the childhood. She has started her career from 2001. She is also one of the dancers on ABC's popular show "Show Me the Money" in 2006. She has entered the music industry as well.
Her first single was released to raise funds for the Red Cross. This song was titled "Will You Dance With Me" and was also included in #100 in Billboard Pop 100. In 2008, she came up with yet another popular song "That Song in my Head" which was listed in #84 in Billboard Pop 100 chart. She has also sung "Is That So Wrong" in 2010.
She has also played in many music videos. Some of the popular ones are "That Song in my Head", "Is That So Wrong" and "We Are the World 25 for Haiti". She started her acting career in 2001 from "Harry Potter and the Sorcerer's Stone" as Hogwarts schoolgirl. In 2010, she got a chance to work in "Burlesque" in the role of Georgia.
From her acting skills, she got very good reviews from the audience as well as the critics. She has also worked in "Footloose" and "Rock of Ages" as Ariel Moore and Sherrie Christian.
In both the cases, she appeared as the main role. Recently she got the opportunity to be part of "Safe Haven" and "Paradise". In Safe Haven, she acted the role of Katie Feldman and in Paradise; she took the lead role of Lamb Mannerhelm.
From her hard working and excellent performances, she has also won many awards. In 2008, she won the Top New Female Vocalist as well as Top New Artist in Academy of Country Music.
She has also got nominated for Primetime Emmy Awards for two times. Both times, she has been nominated for the work of "Dancing with the Stars" in 2008 and 2009. She has also won ShoWest in the category of Female Rising Star of 2011. From the movie, she was nominated for Teens Choice Award from "Rock of Ages" in 2012.
She is 5 feet 3 inch tall. She was also ranked #30 on Hot 100 Women in 2008. She has only reached the age of 26. She has an affair with many celebrities.
Her dating became a hot topic for discussion once. Her hot body and sexy legs have also given her this height of success. She has great body measurements of 35-24-36. She wears the shoes of size 6.
She has the weight of 53 kg. Her short hair looks were also very popular among the viewers. She is not married yet and has not seemed to be ready to find the husband as well. But she has broken the relationship with many boyfriends.
You can find her pictures before and after a haircut in various internet sources. She has the net worth of $4 million. You can also follow her on Twitter and Instagram. To know more about her, you can visit Wiki and IMDb.
---