Helena Christensen Wiki, Hair, Young, Husband and Net Worth
Date: 24 May, 2015 Report This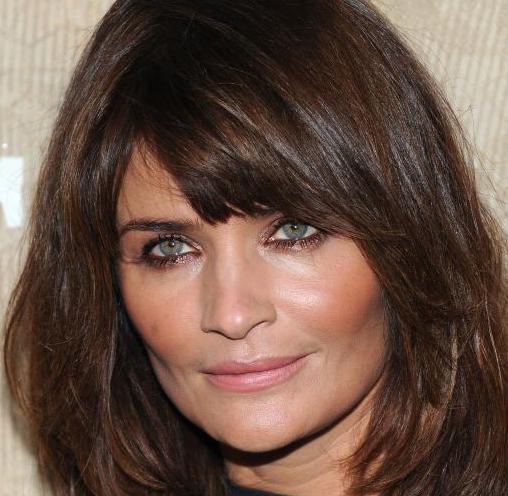 46-year-old active model Helena Christensen was at the peak of her modeling career in 1990s. Then, she was regarded as one of the highly sought after supermodel. Now as of 2015 - even in her 40's, she is all about class.
She has surely shattered the age-old misconception that "all models are dumb", or like this one "models are just beautiful faces and skinny legs who likes to walk on a ramp". At the age of 46 now, she is the owner of her own perfume (Dead of Night) and clothing line (Christensen & Sigersen). Moreover, she is one of the most recognized non -professional photographers that ever existed in Europe.
Interested in photography since her childhood, Helena pictures have been showcased by various reputed photo related organizations such as Nylon, Marie Claire, Rika, Elle, and many more. And just in 2014, she cashed in an amazing opportunity to work for The Luxury Collection as a cherished global explorer. Anyway, she is good at photography because it's her childhood interest - an interest that is more ancient than her modeling career. However, her modeling career is like "Professor X" to her, as she got several opportunities to learn one or few things about photography with many of photographer she worked with while modeling for such a long time. But, the person who gave her first taste of the art was her photographer boyfriend whom she dated in her teens.
Miss Denmark 1986, Nylon magazine ex creative director, and a philanthropist (breast cancer), the 46-year-old Danish native was also regarded as one of the sexiest woman in the world in the 90's. Now that more than two and half decades have passed since those glory days," How her beauty can be best defined in the present context? "- it's is the question that has provoked us to write this article.
So, now let's move on to her physical sex appeal and body orientation. Given the fact that she still enjoys her fit hourglass shaped body with body measurements 35-24-35 even at this near to old age, we may easily assume she works hard to maintain such a body. In the past she has said that the secrets to her beauty and good-health are nothing except being happy and sleeping enough. Till now, she has denied any plastic surgery rumors. But, some plastic surgeons have suggested that she has gone through procedures such as tummy tuck and rhinoplasty. And, there are good numbers of surgeons who have backed up her claim of not going though knife till the age.
Anyway, if you didn't know, Helena prefers organic diet, yoga, swimming, running and kick -boxing to remain in perfect shape. Also, she has publicly said that she will be open to non-intrusive form of plastic surgeries in the future if she needs them. But, as of now, we think she is doing amazingly well for the 46 year old who gives nude pictures.
Yeah! You heard it right. Just in early 2015, she posed nude for the French fashion magazine Madame Figaro. Details of the photo shoot can be found on the internet. But, we are dying to tell you that in the nude shot she wore nothing but a tiny short while sleep-posing exceptionally well on the beach covering her chest with one hand and her hair with another.
Therefore, we think she nowhere looks like a 46 year old. If you compare her nude pictures of now to that of two decades ago, you will find less or no difference. Furthermore, she has got an appealing tall height of 5 feet and 10 inches. Other of the contributors to her high physical sex appeal is her flat tummy, well-maintained honey colored skin, silky brunette hair, toned legs, multiracial ethnicity and shapely thighs plus breasts.
Evergreen beauty Helena is a loving mother and best friend to her 15 year old teen son Mingus. Mingus father is none other than American model and actor Norman Reedus. Although it is rumored that Helena has dated more than 12 famous men including Chris Issak, Leonardo DiCaprio and Jon Bon Jovi, the verified ones are Michael Hutchence (1992-1995), Norman Reedus (1998-2003) and Paul Banks ( 2008-present). Unfortunately, we don't even know if she has married anyone or not till now. It is said that what then-husband Norman and Helena had was a married relationship, but Helena has surprised everyone claiming that she has never shared her home with anyone except her son Mingus. But, she is open to the idea of living together with a man now. This transformation may have happened because of her age. Now, she is not that busy like she used to be in her prime years. Maybe, she is already enjoying the idea with boyfriend Paul who she has been dating since 2008.

Started doing modeling at the young age of 9, Helena initial dream was to be a musician. Now, the former Victoria Secret Angel lives a miscellaneous life with a net worth that is believed to be in the range of 10 million to $15 million US dollars. Besides modeling and sporting interests, she has also gained some acting experience in the past (a TV show called Inferno and a movie namely Ready to Wear). Surely, there is a high possibility that she will be getting offers of TV shows and movies around Europe once her modeling career ends. Still, she is not anywhere leaving modeling.
Other wiki on her personal and professional life can be accessed via various sources over the media like Wikipedia's biography on her. Furthermore, there are no any other divorce or children rumors on her over the media. Last but not the least, her fans can connect her via Twitter and Instagram.
---